With lockdown restrictions easing, you might be considering a holiday abroad. However, with quarantine rules and lockdowns still affecting many other parts of the world, lots of us are still opting for a staycation. And what better way to spend a holiday, than relaxing in a peaceful yoga retreat?
From stunning coastal settings to hidden woodland escapes, the UK has a unique selection of yoga retreats to choose from and to help you find the perfect location, we've handpicked the very best for you below.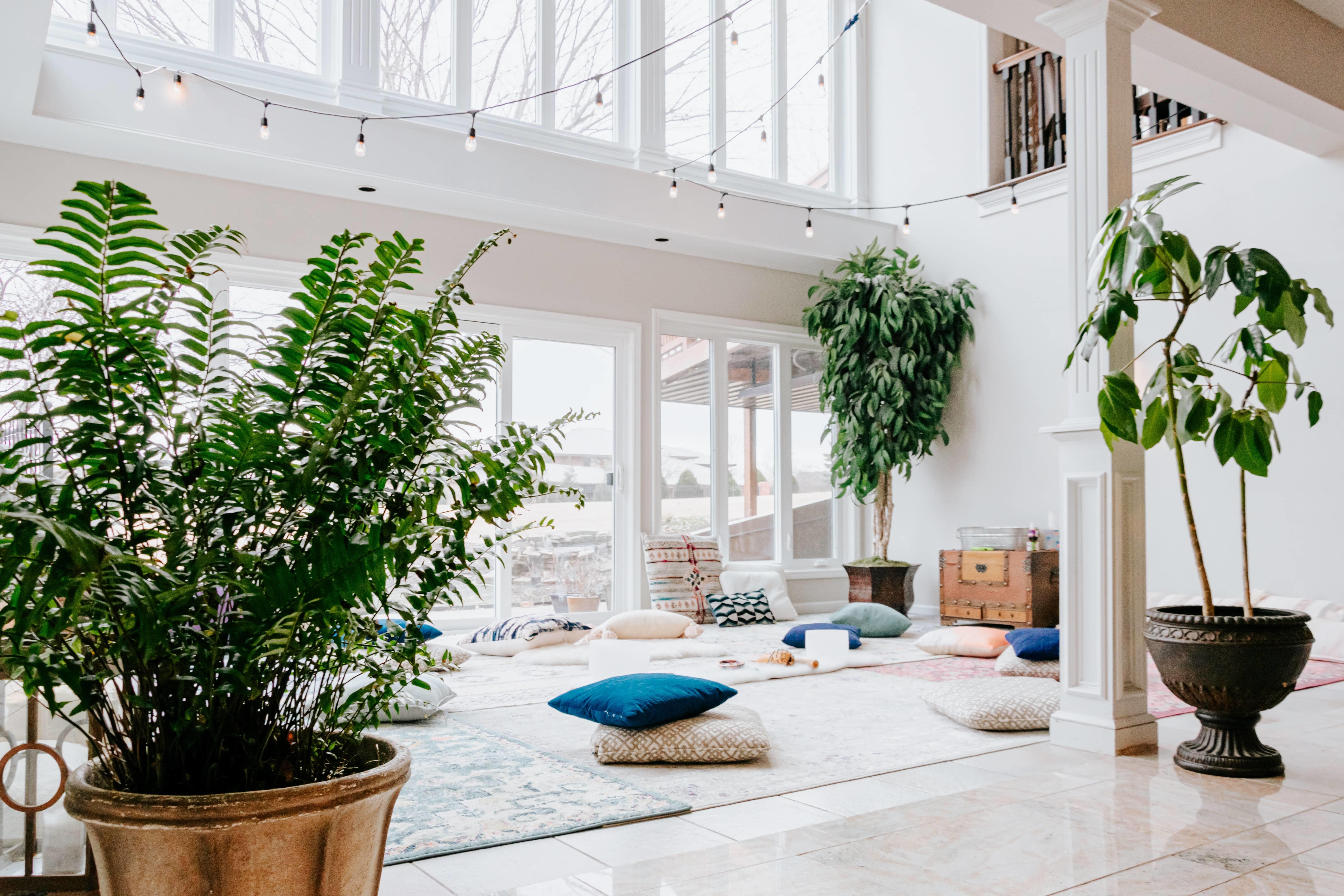 The Tree Relaxation Retreat North Yorkshire
If you're wanting a quiet place to relax and unwind, The Tree Relaxation Retreat is the perfect place. Situated in the North York Moors National Park, the retreat is surrounded by beautiful rolling countryside, providing the ultimate escape from your busy day-to-day life.
The Tree Relaxation Retreat specialises in Hatha and Kriya Yoga, in addition to mindfulness meditation and Qi gong, a powerful Chinese healing exercise.
You can also take part in a range of workshops including a five-day silent yoga and mindfulness retreat, and relaxation weekends with a carefully planned itinerary to help you get the most from your stay.
The Retreat New Forest, Dorset
This peaceful sanctuary situated on the edge of the New Forest offers a vast choice of wellbeing practices, treatments and activities, to provide the ultimate restorative experience. This includes instructor-led yoga sessions, guided mediation, breathwork, pilates and much more.
It also plays host to a range of workshops and day retreats, including an End of Summer Bliss, Balance and Healing Retreat, a Handstand Workshop and a Mindfulness Retreat Morning, all taking place throughout September.
Of course, staying well-fuelled is essential and with its own plant-based cafe and award-winning vegan restaurant, you can feast on deliciously nutritious meals and refreshments throughout your stay.
The Scarlet Hotel, Cornwall
At this luxury clifftop hotel, you can enjoy waking up to the sounds and breathtaking views of the ocean. Throughout the year, you can book a three-night intention yoga break, that offers both private and group yoga sessions and guided meditations from expert practitioners.
Their yoga classes are inspired by Ayurveda and the three main mind and body types. These are referred to as Dosha types and are believed to be influenced by the five main elements - air, space, fire, earth and water. Therefore, during your yoga sessions, your practitioner will help you to understand your dosha type and discover the best yoga practice for you.
As part of your yoga break, you'll also be treated to the Scarlet Spa's unique Solo Journey, a four-hour treatment that includes a tension releasing bathing treatment, a long therapeutic massage and a 30-minute hot tub session on the cliff tops overlooking the beach.
Sunny Brow Farm Retreats, Lake District
This unique farm retreat is situated in the heart of the Lake District, providing the perfect opportunity to relax, unwind and immerse yourself in the surrounding nature.
You can enjoy a range of yoga practices, including Hatha, Yin and Soul Light Yoga, in addition to a range of other holistic therapies, including massages, soul healing, Reiki and more.
The accommodation consists of four beautifully converted barns, with shared living and dining spaces, providing the opportunity to connect with like-minded people and enjoy a wholesome shared experience.
All meals are provided and include a wide variety of delicious vegan and vegetarian dishes, made using fresh home-grown vegetables and other nutrient-rich, organic whole foods.
The Zest Life Retreat, Anglesey Wales
A fantastic choice for nature lovers and adventurers. Located on the Isle of Anglesey just off the northwest coast of Wales, the Zest Life Retreat sits amongst 21 acres of private parkland with impressive mountain views, rivers, waterfalls and woodland, all of which can be explored at your own leisure.
Different types of retreats take place throughout the year here, combining a mix of yoga and nature-based activities which include hiking, SUP paddle boarding and wild swimming. However, if you don't fancy taking part in any of the outdoor activities during your stay you can opt for a purely yoga-focused experience, meaning there really is something for everyone.
Whichever you choose, the good news is there's also plenty of time for rest and relaxation, whether that be lounging in the beautiful gardens or taking advantage of one of their holistic treatments.
Samsara Retreat, Kent
If you're looking for something a little quirky, Samsara may be just what you're looking for. For your accommodation, you can choose from a variety of unique glamping options including large luxurious tipis and bell tents, both fitted with log burning stoves for those cooler evenings. There's also a cosy shepherd's hut complete with an eco hot tub complete that looks out onto the picturesque Kent countryside.
Samsara offers a great range of Asthanga, Hatha and Vinyasa yoga classes, which take place outdoors in the beautiful retreat gardens. And if it's bad weather, you can still enjoy yoga in the open air, under the protection of a cosy heated Bedouin tent.
Gayles Retreat, East Sussex
Last but by no means least, the Gayles Retreat. Nestled in the glorious rural setting of the beautiful South Downs National Park, you can enjoy a range of yoga workshops, silent retreats, guided meditations and mindful practices.
The yoga studio itself, the Old Cowshed, has been purposefully restored to provide a light, open and calming practice space for lessons or individual practice. The accommodation is just as inviting, with a number of communal spaces including indoor and outdoor dining areas to create a social and inclusive atmosphere.
However, if you want some time to rest and reflect away from other guests there are hammocks scattered throughout the gardens and plenty of opportunities to enjoy some quality alone time.
Ready for your yoga break?
By sharing our top pick of yoga retreats we've hopefully helped narrow down your choices. But before you go ahead and book your perfect destination, we recommend taking a look at our unique range of yoga products, including our specially designed travel yoga mats.
They're super lightweight and much less bulky than a standard mat, making them the ideal companion for your staycation. They also have engraved alignment lines, making it easier to correct your postures and ensure you're getting the most out of each practice.
View our travel cork yoga mats here