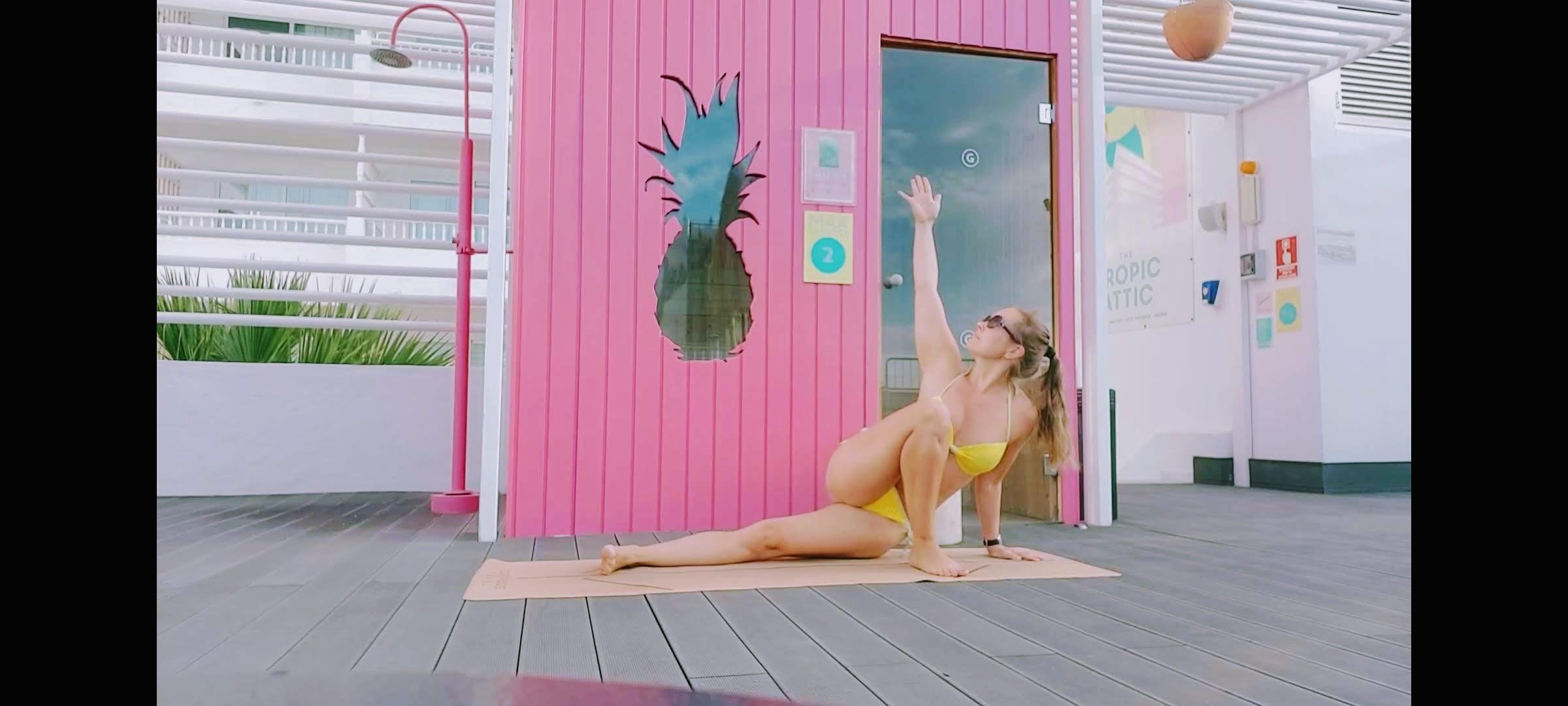 With covid restrictions now lifted, many of us are finally looking forward to packing our suitcases and jetting off into the sun for a well-earned break.
Of course, when arriving in a new town or city there's always a ton to explore. And in-between long days of sightseeing, feasting on the local cuisine and of course, taking time to relax, it can be difficult to find time for your yoga practice.
However, just because you're on holiday, it doesn't mean your yoga practice has to stop completely. In this article, we share our top tips to help you maintain your practice whilst travelling abroad and explain why doing so can enrich your holiday and make a good trip even better.
A short practice is better than no practice
If you're worried about your usual yoga routine taking up too much time, why not simply shorten your practice? If you usually practice for an hour, just aim for half an hour. You may be surprised to find that as little as ten minutes is enough to benefit you both mentally and physically, and we guarantee you'll walk away from your practice feeling pleased you did it.
Find a yoga class near you
Thanks to its huge soar in popularity over the last decade, yoga is now practised all over the globe. This means there's a good chance you'll be able to find a class nearby, which takes advantage of your location and surrounding scenery. For example, depending on where you are, there may be beach yoga classes or even treehouse yoga!
Finding a class is also a great way to meet like-minded people and possibly make some new holiday pals, so why not do some research prior to your trip to discover the best yoga classes in town.
Get your travel companions involved
If your travel companions enjoy yoga already then great, but if they've never tried it before then now's the perfect time to get them involved. Whether you're travelling with your friends, partner, or your kids, yoga is for everyone so why not encourage them to give it a go? If they enjoy it (and of course, why wouldn't they?), it could even be something that you continue to do together after the holiday is over.
And if that doesn't work…
If you do try to involve your kids/partner/friend and they decide yoga isn't for them, it can make it trickier to find time for your practice. So why not get up a little earlier and complete your practice before they're awake?
Starting your day with yoga is one of the best things you can do as it not only mobilises your body and helps to ease any tightness and stiffness accumulated overnight, but also helps put you in a positive mindset for the rest of the day.
It also means you're then free to spend time with your friends or family once they're awake, without having to worry about finding time to squeeze in your practice.
Finally, don't forget your mat!
The great thing about yoga is it requires very little equipment. The only necessity is a mat and CorkYogis have the perfect travel mat to accompany you on your holiday.
Made from sustainably sourced cork and natural rubber, CorkYogis travel mat is 100% eco-friendly. And at just 1mm thick, it's super-lightweight, so won't take up much of your baggage allowance! It's also highly practical as cork provides fantastic natural grip, which actually improves the more you sweat.
Cork also has antimicrobial properties which help to prevent the spread of bacteria and viruses, helping you to stay safe on your travels.
Browse our travel mats and more of our eco-friendly cork accessories for a safer, more sustainable yoga practice. Bon Voyage!