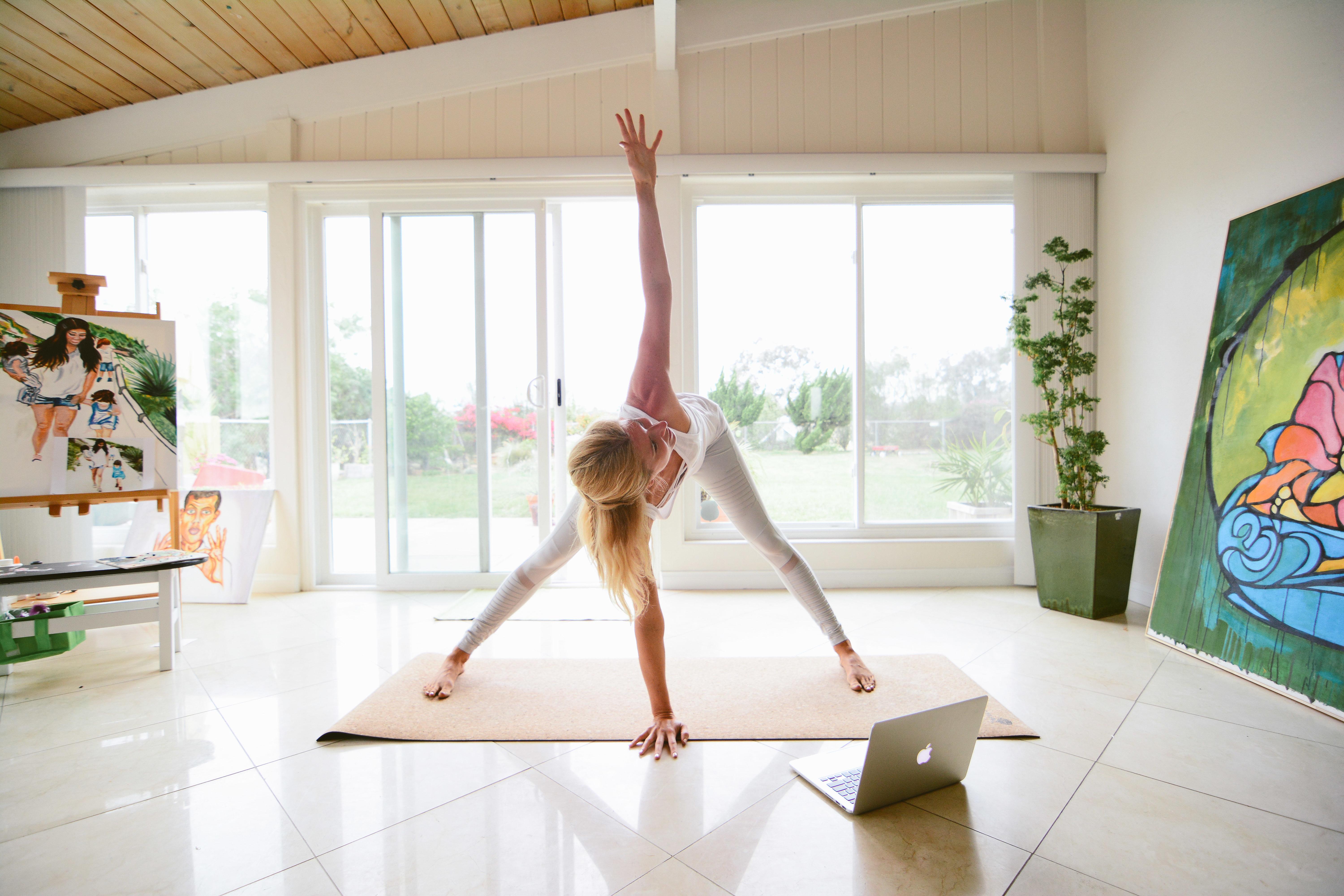 Whether you're an advanced yogi or a complete newbie, practicing yoga at home is a great way to look after your physical and mental well-being. By slowing down the mind and becoming present in the moment, yoga is often an effective remedy for stress, anxiety and even depression. Benefits of practicing at home can support you in so many ways. By slowing down the mind and becoming present in the moment, yoga is often an effective remedy for stress, anxiety, and even depression. It also helps build muscle strength, increase flexibility, reduce blood pressure and improve your cardiovascular system. Yet, without the structure of a class environment, practicing on your own is sometimes difficult.
However, thanks to the power of modern technology, you can now access thousands of yoga classes online, all from the safety of your own home. And to help you get the most out of your home practice, we've handpicked our top YouTube yoga channels and some online classes we highly recommend! What's more, all these online classes on You Tube are completely free, so you can enjoy yoga without inflicting any damage on your bank account!
1. Yoga With Adriene
With over 7 million followers, Adriene's YouTube channel is certainly one of the most popular. And with over 500 videos to choose from, there's something here for everyone. Her motto, 'Do What Feels Good', reinforces that yoga is about being kind to your body, rather than forcing postures. Adriene's videos are perfect for all abilities, but if you're a complete beginner, the Yoga For Beginners and Foundations of Yoga series are good places to start.
2. Purple Valley Ashtanga Yoga
Purple Valley Yoga Retreat hosts some of the world's leading Ashtanga yoga courses and teachers. And whilst the retreat itself is based in Goa, West India, you can access their online classes for free over on their YouTube channel. Beginner routines are available for newbies, but there's also plenty of videos for more advanced yogis looking to take their practice to the next level.
3. Core Power Yoga
While a monthly subscription fee of $19.99 (£15.95) is usually required, Core Power are currently offering everyone free access to a new collection of online classes each week, to help support individuals during the lockdown. Ranging from 20-minute to 1-hour, all videos are recorded in a class setting, so you can even pretend you're back in a real yoga class! To help you decide on the intensity of your workout, each video includes a short summary, including the style of yoga, target areas and sweat level.
4. Yoga House
Yoga house brings you all styles of yoga. From iyengar, hatha, ashtanga, power yoga, bikram and kundalini, Yoga House makes it easy to mix up your practice to suit your personal needs. They even teach yoga asanas for couples, so you and your partner can practice together. Their calming stress relief series is ideal for anyone experiencing increased anxiety during lockdown, whilst their upper body workouts and core strengthening exercises are perfect if you want to make your practice more physically demanding.
5. Faith Hunter
Based in New York, Faith's YouTube channel includes a range of restorative and reflective practices to help you feel grounded and relaxed. In addition to her yoga videos, you can also join her in guided meditation, and follow her lifestyle tips for healthy happy living.
6. Yoga TX
Whether you're looking to wake up, wind down or simply bring yourself back to center, Yoga TX's personalised videos are easy to follow and leave you feeling calm and refreshed. In addition to full-body workouts, hip openers and restorative practices, they also offer a range of videos for relieving neck and back pain. Their YouTube channel has over 500 videos, with more new flows released each week.
7. Do You Yoga
If you're just starting out on your yoga journey, the Do You Yoga 30-day challenge is a great way to make your practice part of your daily routine. With each new flow, you gain a better understanding of your body, helping you feel more connected, whilst building strength and flexibility. Above all, it demonstrates how practicing for a short time each day can have a big impact on your overall well-being. Â
8. 5 Parks Yoga
With videos taking place in a tranquil outdoor setting in Costa Rica, 5 Parks Yoga offer a relaxing, immersive practice suitable for all abilities. Led by yoga instructor, Erin Sampson, you'll be guided through a wide range of feel-good flows. For a longer practice, try her 1-hour videos focusing on spine strengthening, reducing stress, and going deeper. Alternatively, if you're struggling to make time for your yoga practice, try her short and sweet 10-minute flows.
9. Fight Master Yoga
For a wide variety of home practices including, Hatha, Ashtanga, Yin sequences, and more, join instructor Lesley at Fight Master Yoga. Lesley's yoga for beginner's at home is perfect for newbies, whilst the intermediate classes are ideal for more experienced yogis wanting to take their practice to the next level. But regardless of your ability, Lesely's motto "it's not about the pose" reminds everyone that yoga is about making yourself feel good, not about being perfect.
10. Yoga Dose
Yoga Dose. Focused on building strength and flexibility, these classes are more physically challenging. With a combination of juicy core workouts, energising backbends and intense cardio sessions combining yoga movements and HIIT training, you'll certainly work up a sweat. You'll also be taught how to safely practice the trickier postures requiring extra strength and balance, including inversions such as crow and sirsasana (headstand). And with classes posted every Thursday, you can access new practices each week.
11. Yoga Loft
Yogaloft is a local Queens Park yoga and pilates centre also offering a range of holistic therapies and smoothie bar. Discover 150+ classes a week with London's leading instructors across our Lonsdale Rd and Beethoven St studios.
While our physical studios are temporarily closed due to coronavirus, we have gone virtual! Yogaloft@Home classes are taught by our wonderful teachers with more than 65 classes/week livestreamed to your home. They currently offer a broad range of styles, and teach total beginners to trainee teachers, and everyone in between!
In addition to Iyengar, Ashtanga, Vinyasa, Yin and many more, we also offer Pregnancy yoga, Mummy&baby and Kids yoga as well as Reformer pilates (when open), Mat pilates and immune-boosting yoga.
12. Cheryl Mokhtari Yoga
Over the years Cheryl has taught yoga to a wide variety of people, from absolute beginners, to professional athletes and those recovering from injuries or emotional trauma. She has a unique ability to make people feel at ease and the complex appear simple with her clear and precise instructions, all delivered with a smile and her down to earth approach to life.
Cheryl is London based and you can find her classes in London's top yoga studios and private member clubs. She also offers private classes to a wide range of clientele including company directors, entrepreneurs, actors, models, students and home makers.
Her audio classes are available online and well worth tuning in to!
13. ELLE DANIEL YOGA
Yoga is my life. For Elle, yoga is the most powerful tool for healing, and wants to share that wonderful healing potential with you. When she started studying, she came to yoga purely for the 'exercise' element, as a way to get stronger and fitter - another fitness regime... but the more she studied, the more she trained and developed as a teacher, the more she realised how much deeper the practice could be: she unlocked its potential for healing, for infinite growth; acquiring much, much more than simply 'fitness goals'. Yoga showed her what her body and mind could achieve together. Getting fit and physically better in shape was just a happy by-product! Check out her online offerings here.
14. Yogi Joao
João is an Andorra-born Yoga/Meditation teacher and Reiki healer devoted to his Dharma of helping others awaken to their Truth, to Love. Having suffered from depression since a young boy, his Yoga journeystarted in Portugal over 17 years ago when, upon observing an Asana practice, a seed was planted. He now calls it a moment of grace and offers live-streamed classes.
Try CorkYogis Natural Non-Slip Yoga Mat
We hope these online yoga classes provide some inspiration for your yoga practice. However, if you need a little more incentive to roll out your yoga mat, perhaps one of our beautiful, natural cork yoga mats will tempt you?
Made using sustainably harvested cork, our mats are 100% natural and eco-friendly. What's more, cork's natural grip increases as you sweat, allowing you to hold your poses without slipping or sliding off your mat. And when you purchase a CorkYogis yoga mat or any of our other unique yoga products, 10% of our profit is donated to Destiny Reflection, a Kolkata based charity supporting survivors of sex slavery and human trafficking.
Browse CorkYogis' Full Product Range