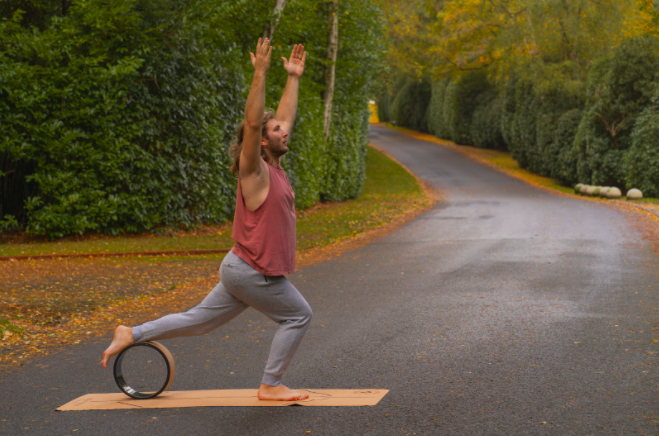 It's fair to say, 2020 has been a challenging year for us all. But with the heightened worry and uncertainty caused by the pandemic, taking the time to roll out our mats, disconnect from the outside world and focus on the present, has proved more important than ever.
Yet if you feel your practice is becoming repetitive, or you're struggling to find the motivation to get on your mat, you're not alone. With lockdowns and social distancing measures still in place across many parts of the world, many of us have been restricted to practising in the confines of our own home, without access to teachers or yoga studios.
But 2021 is a new year, so why not use this as an opportunity to inject some new life into your yoga? In this article, we share our top tips to help rejuvenate your practice and get the most from your routines in 2021.
1. Set your intentions
One way to enhance your yoga routine is to open your practice by setting an intention. This not only adds a deeper layer to your practice but can also have a positive impact on your general day-to-day experiences.
At the start of your practice, think of a quality that you want to make stronger in your life. This could be gratitude, compassion, forgiveness, mindfulness, or any positive attribute you want to see more of.
Throughout your practice, try to focus your attention on this virtue. If you feel your mind wandering, come back to your intention. Even after your practice is over, you can remind yourself of your intention, and focus on embodying it throughout each day.
2. Change the time of your practice
Changing the time of your practice can unlock new benefits and can transform how you feel for the rest of the day.
For example, if you always practice first thing in the morning, you may find an evening session helpful for relaxing and unwinding, or ironing out any niggles or stiffness that may have developed throughout the day. Alternatively, if you usually practice in the evening, try switching to the morning and notice how much more mobile and energised you feel throughout the day.
Of course, most of us have busy lives and sometimes there's only a limited window to practice. However, where possible, we definitely recommend giving this a try.
3. Challenge yourself
Often, we fall into the trap of repeating the things we feel comfortable with, but challenging yourself is important, both on and off the yoga mat! By doing something outside your comfort zone, you not only gain a sense of achievement, but it also inspires you with confidence that you can do anything you put your mind to.
So, wherever you are on your yoga journey, be sure to spend some time practising the postures or sequences you find more challenging. Perhaps you've mastered crow pose. That's great, why not try and perfect your handstand now?
But remember, building up to certain poses can take time, so listen to your body and have patience. By practising regularly, you'll get there eventually, and the sense of achievement you get will be well worth it.
4. Practice somewhere new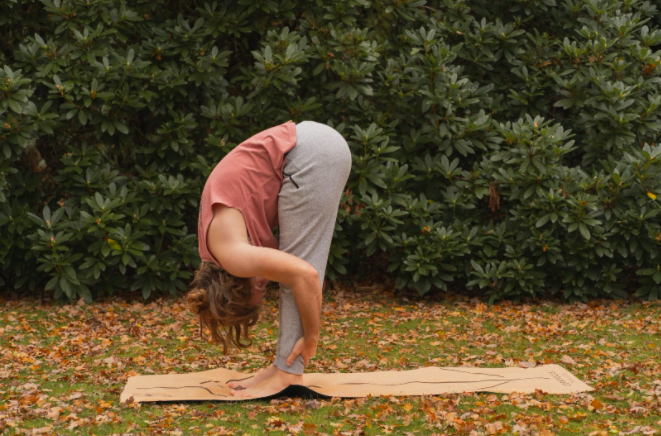 Changing where you practice is another great way to mix up your yoga sessions. Whilst lockdown measures have restricted many gyms and studios from operating normally, outdoor exercise in public places is still allowed in most areas.
So, if you can't get to your normal yoga class, why not take your mat to your local park, or any other open space available to you. Immerse yourself in nature and spend time taking in the different scents and sounds around you. Not only will it offer a refreshing change from your living room, but you'll also gain the added benefits of being out in nature.
Of course, lugging your mat around can be a bit of a chore, which is why we've designed the ultimate lightweight travel mat. At just 1kg and 1mm thick, our cork travel mat is super easy to carry and can be rolled out just about anywhere. It's also ideal for travelling abroad, so when travel restrictions are finally lifted, you can take your mat with you on that long-awaited holiday.
5. Try a different style of yoga
If you're looking for new ways to spice up your practice, we definitely recommend experimenting with different styles of yoga. For example, if you're used to more fast-paced Vinyasa-style routines, why not switch to a slower, more restorative practice such as Yin or Hatha?
Or if you haven't already, why not learn the Ashtanga series? Traditional Ashtanga yoga comprises six series and although many of the poses have been incorporated into other types of yoga, traditional Ashtanga sequence is practised in a specific order. Each series is progressively harder than the first, with the final series practised only by the most advanced yogis.
Other styles you may want to try include Viniyoga, Iyengar, Jivamukti, Bikram, and Kundalini, which you can learn more about in our Beginners Guide to Yoga.
6. Add some props
Finally, using props, such as blocks, straps, or a yoga wheel, can be a great way to bring new elements to your yoga sessions. What's more, in addition to making your practice more exciting, using these props effectively will help you get more from each posture.
Let's take a look at blocks first. Blocks are a great way to bring the ground closer to you and make challenging poses more accessible. For example, if you have tight hamstrings, placing a block under your bottom hand in Triangle pose will help you to maintain good alignment and gain the full benefit of the stretch, instead of hunching forwards in an attempt to reach the floor.
Yoga wheels are another great addition to your practice. They can be used in any number of poses to gain a deeper stretch and increase flexibility, but are particularly useful for back-bends such as Fish Pose and Reclining Easy Pose. By providing vital support for the spine, the wheel helps remove tension and allows your body to sink even deeper into poses.
Ready to spice up your yoga practice?
We hope you found our tips helpful, and we wish you a year of health and happiness in 2021! And if you haven't already, be sure to check out our eco-friendly Yoga Products, including our Cork Yoga Wheel, Travel Mats, Yoga Blocks and more.