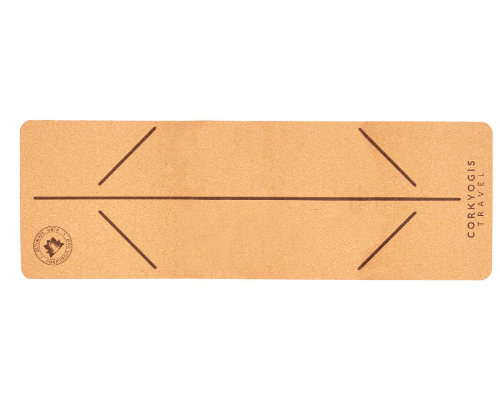 A good yoga mat is essential for a comfortable practice. Not only does it provide a safe, non-slip surface for maintaining balance, it also offers important cushioning and protection for your joints. When it comes to choosing your mat, you'll find plastic/PVC mats are the most widely available, and also often the cheapest. But PVC is harmful to the environment. Made by reacting chlorine, carbon, and ethylene (a product of petrol), this man-made product requires an intensive production process that relies heavily on the use of fossil fuels. What's more, PVC mats cannot be easily recycled, which means many pre-loved mats end up in landfills where the chemicals slowly start to break down. This releases dioxin, a known carcinogen.
Fortunately, there's an all-natural, highly sustainable alternative to PVC. And that's cork. Unlike PVC, cork yoga mats are 100% natural and super eco-friendly, but that's not all that makes them great. Whether you're looking to buy your first ever yoga mat, or your current mat has seen better days, here are just a few reasons why you should choose a cork yoga mat over their PVC counterparts.
1. Sustainability
In today's modern world, many of our practices and manufacturing processes are carried out without sparing a thought for future generations. But at CorkYogis, our manufacturing process is different. For starters, cork is a natural and renewable resource, as once the bark is removed from the trees, it begins to grow back. The first harvest occurs when the tree is 15-20 years old, and after 9-10 years the bark is ready to harvest again.
Cork farming also helps offset millions of tons of carbon each year, as studies show Cork Oak trees absorb up to 5 times more carbon dioxide once their bark is removed. And to make our process even more sustainable, we ensure no part of the cork is wasted during the manufacturing process - even the cork dust particles are used in various cork products!
We believe fair trade is essential to creating a sustainable process, which is why we make it our responsibility to ensure our cork farmers and harvesters are getting a good wage for their resources. And as it happens, cork harvesting in Portugal is one of the best-paid labor jobs in the world.
2. Improved grip
Plastic mats are often advertised as 'non-slip', but the reality is most lack decent grip, especially once you start to sweat. If you've ever been to a Bikram or Hot Yoga class, you'll know exactly what we're talking about. Cork, on the other hand, has natural gripping properties that actually increase friction as you sweat. Not only does this magic non-slip surface make it easier to hold certain postures, but it's also safer as you're less likely to fall and injure yourself.
3. Better quality
While plastic/PVC mats can often be purchased with a smaller budget, cork yoga mats are much more durable and have a far longer life expectancy. So whilst you may save a few pounds initially, you'll only spend more when you come to replace it (and we've already discussed what happens when a plastic mat reaches the end of its life).
But will you actually notice the difference during your practice? The answer is most definitely, yes. If you've ever owned a plastic mat, you may have noticed the edges rolling up during practice, however, this is not true for cork mats. Plastic/PVC mats can also feel foamy and unstable, but due to its high-density properties, cork yoga mats are firm and supportive.
4. Light-weight
If you often carry your mat around with you, be it roaming abroad or simply crossing town to your local studio, you want a mat that's lightweight and easy to transport. And although cork mats are sturdy, they're also super light, making them ideal travel companions. CorkYogis have released the UK's first cork travel mat with alignment lines. It weighs only 1 kilo and is 1mm thick and can be used as a topper on studio mats- perfect for these times! To keep your mat safe and protected while out and about, it's definitely worth investing in a yoga mat bag. CorkYogis unique sari yoga mat bags are great for slinging over your shoulder and help protect your mat against any scratches or scrapes.
5. More hygienic
Believe it or not, cork yoga mats are actually more hygienic. A recent study conducted by ABC-13 News, looked at the number of germs living on the average yoga mat. After taking samples from several mats, the swabs were taken to a lab and the results were rather shocking. One mat tested positive for staph, a bacteria which is known to cause urinary tract infections. They also discovered various forms of fungus, which lab director Melanie Rech warned can cause wound infections.
Another mat tested positive for pantoea agglomerans, a coliform bacteria and fecal indicator that can cause gastroenteritis (an intestinal infection similar to stomach flu). Pretty grim right?
So how can cork protect you? It just so happens that cork is organically anti-bacterial and greatly reduces the number of nasties breeding on your mat. This means you don't need to worry about disinfecting your mat - simply give it wipe with a damp cloth at the end of your practice and you're good to go!
6. Supports Sex Trafficking Survivors
Perhaps one of the most significant factors that make CorkYogis mats different from plastic alternatives - or any other yoga mats for that matter. When you purchase a cork yoga mat with CorkYogis, we donate 10% of our profits to our charity partner Destiny Reflection. Based in Kolkata, Indian, Destiny Reflection provides vital support and educational opportunities to empower sex trafficking survivors and help them build a better future.
One of the ways they do this is by offering girls and women free sewing and literacy training courses, to equip girls with employable skills for the future. By selling their handmade products, such as CorkYogis sari bags, they can achieve financial independence.
So which is best?
Whilst plastic/PVC mats may be the cheaper option, it's fair to say cork yoga mats trump their synthetic rivals in every other area. These natural eco-friendly mats are better for the environment, higher quality, more durable, and easier to transport. You're less likely to be exposed to nasty bacteria hiding on the surface and with their incredible grip, you won't ever have to worry about slipping out of poses. Most importantly, 10% of your purchase helps transform the lives of sex trafficking victims. So, what are you waiting for?